Katherine Monk assumed the name Katherine Monk when she moved from her hometown of Montreal to Vancouver in 1984 to escape the centralist Canadian conspiracy and to greet the great mountain called Whistler. She justified the latter by living at the University of British Columbia and buying books, staying up late and hanging around public spaces with a backpack. Life was good and so was the skiing.
Six years later, Monk had an honors degree in English, a post-grad diploma in film and monstrously developed quadriceps.
She found employment as a journalist.
It was no freakish accident. She spent many, many, many hours at the university newspaper (The Ubyssey) over her six year edu-vacation, finally falling off the barstool as city editor. (She's just joking… She never fell off a barstool, only weaved a little.)
She regained consciousness at the city's broadsheet daily, The Vancouver Sun, in 1990 – after a few hallucinations at weeklies. But she has been dopey ever since and strangely, can't remember anything from her six-year, scholarship-laden, stint in the proud halls of academe.
Monk is also prone to episodes. They occur regularly and, usually, involve learning another language. From the moist tip of South America to the Austrian Alps, Monk has lost her wallet almost everywhere in the world. Fortunately, in return, she has gained many tongues (now packing a fat five into that l'il piehole) – starting each time with the surefire cultural immersion method that begins: "Thank you, but I have no money."
She focused her energy on developing a career where honesty and a burning desire to unveil hidden truths would be rewarded. So she declined her acceptance to law school and got a job at the local metro daily: The Vancouver Sun (est. daily circulation 200,000 – back in 1990).
Monk started at the Sun as a nightside reporter in February 1990, and eventually worked in almost every department in the newsroom, from news reporter to editorial page editor, rock critic to movie writer, new media reviewer to columnist.
Simultaneous adventures at this time included reviewing movies for CBC radio's Definitely Not the Opera, reviewing videos for WTN's Creators, reviewing video game software for the NHL Players Magazine, freelancing for Pedal Magazine and others, as well as script-editing movies that never got made and yes, making her way down those divine mountains.
In the year 2001, Monk's first book, Weird Sex & Snowshoes — and Other Canadian Film Phenomena was published by Raincoast Books. The book climbed all the way to #9 on the Canadian bestseller list.
Monk left the Vancouver Sun in 2002 to become a national writer with the then-nascent Canadian News Desk, the former Southam News Bureau, restructured to become a multi-media content feed for the Canwest News organization (now known as Postmedia), the largest media conglomerate in Canada and owner The Vancouver Sun, Province, Montreal Gazette, National Post, Calgary Herald, Edmonton Journal, Saskatchewan Leader-Post and others…) and, at that time, Global Television.
As national movie writer, Monk's movie reviews reached a national audience. She also started working on Global BC, where she continues to be seen every Friday on The Early News as well as BC1, the network's all-day news feed.
Monk can also be heard weekly on Calgary's talk-radio leader, CHQR (part of the Corus Network), for Monk on Movies with host Angela Kokott — the number one show in its time slot.
In 2004, Omni Film adapted Weird Sex & Snowshoes to the screen under the direction of Jill Sharpe. The movie version of the book features an all-star cast of Canadian talents including Atom Egoyan, Anne Wheeler, Don McKellar and Michel Brault. You can see clips of WS&S at the Omni website: http://www.omnifilm.com/docs.shtml.
Though Monk has mellowed over the years — she took up golf and yachting, but not penuchle — and though her joints are increasingly arthritic, she still gets a thrill schussing down the hill, and is very grateful to the mountain goddess that a few serious injuries (including a broken back and a mangled knee) haven't slowed her down too much. When she isn't sitting at her desk or slouching in a theatre, Monk teaches film studies (recent stints have included work at Simon Fraser University and Capilano University), lectures (recent lecture destinations include The University of Alaska, Fairbanks, the University of British Columbia  and McGill University's Centre for Canadian Studies) and writes as a gun for hire.
Her most recent book Joni: The Creative Odyssey of Joni Mitchell was published by Greystone Books in 2012 and also became a bestseller, with sales across North America, Asia and Europe. The book was named a Christian Science Monitor Top Pick — on the same day Greystone declared bankruptcy. Miraculously, months later, Greystone was resurrected with its original management team, with Joni onboard.
Monk's written work has also been anthologized in Sexing the Maple, A Sourcebook (edited by Richard Cavell and Peter Dickinson, 2006) and Double-Takes: Intersections Between Canadian Literature and Film (editor David Jarraway, University of Ottawa Press, 2013).
Monk is a member of The Broadcast Film Critics' Association, The Alliance of Women Film Journalists, The Vancouver Film Critics' Circle, The Academy of Canadian Cinema and Television and The Writer's Union of Canada.
Her profound knowledge of show business trivia was showcased in the show Six Degrees of TV from Force Four Entertainment, and she recently wrote and directed Rock the Box, a  short film about female DJs with the National Film Board of Canada featuring DJ Rhiannon. The film premiered at the Toronto International Film Festival in 2015 and continues to screen at festivals around the world.
In February 2015, Monk became a casualty of the ever-changing newspaper industry when the national news bureau was dismantled and centralized in Toronto. She was terminated 25 years to the day after she completed her first shift as a nightside reporter at the Vancouver Sun.
She felt it was all meant to be, and immediately immersed herself in the world of on-line journalism, co-founding The Ex-Press, a website that aims to honour the core ideals of old-fashioned journalism with all the love, but without all the stress. The Ex-Press is currently in beta-testing stages on both Canadian and US sites, but is currently ramping up for a hard launch in the very near future. Stay tuned by visiting ex-press.ca or ex-press.com, or coming back here — to Katherine Monk's digital digs, KatherineMonk.com.
Thank you for your time, your eyeballs and your interest.
KATHERINE IN PRINT (BOOKS):
Weird Sex & Snowshoes: And Other Canadian Film Phenomena (Raincoast Books, September, 2001)
"Monk's ideas never fail to demystify what so many viewers consider the baffling pastiche that is Canadian film… With Weird Sex & Snowshoes, readers have a book that is as much a treatise on Canadian culture as it is a celebration." – Quill & Quire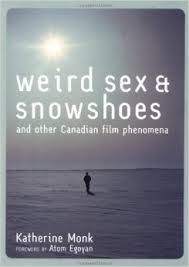 Weird Sex & Snowshoes was adapted into a feature documentary!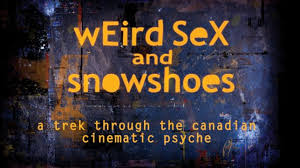 Sexing the Maple, editors Richard Cavell and Peter Dickinson (Broadview Press, 2006). This fine anthology about Canadian sexuality contains the sexy bits from Weird Sex & Snowshoes.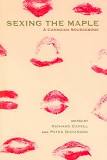 Joni: The Creative Odyssey of Joni Mitchell (Greystone Books, 2012)
"Monk's [Joni] is the closest thing to essential reading. … This unique and thoughtful biography is recommended for all fans of Joni Mitchell."
—Library Journal, Starred review
"[Monk] lifts the veil on her fellow countrywoman. Her account of Mitchell's dramatic rise to fame and countless love affairs, which inspired her songs, makes for a riveting read."
— Christian Science Monitor, Top Pick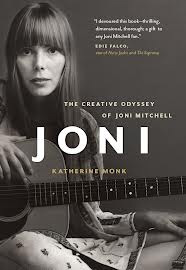 Double-Takes: Intersections Between Canadian Literature and Film, edited by David Jarraway (University of Ottawa Press, 2013) 
This collection features essays and papers concerning the adaptation of Canadian prose to the big screen, by Hollywood and others. Katherine's contribution "Why Sex Matters in Canadian Film and Literature" was originally presented as a paper for a conference that featured the late Paul Quarrington, to whom the book is dedicated.